on Sat Apr 02, 2016 11:13 am
on Sat Apr 02, 2016 11:30 am
http://www.humanlongevity.com/category/news-alert/
http://www.humanlongevity.com/
Human Longevity, Inc.™ (HLI) is the genomics-based, technology-driven company creating the world's largest and most comprehensive database of whole genome, phenotype and clinical data. HLI is developing and applying large scale computing and machine learning to make novel discoveries to revolutionize the practice of medicine.
Introducing Human Longevity, Inc. Health Nucleus
https://www.youtube.com/channel/UCljpbbkw7cT1VdZ39ETkibg
on Sat Apr 02, 2016 11:38 am
on Fri Jun 10, 2016 8:04 am
"Everybody wants to live long, but not to be old."
-- Johnathan Swift 1667-1745

I would not live  forever, because we should not 
live forever, because if we were  supposed to live forever, then we would live forever, 
but we cannot live  forever, which is why I would not live forever.
-- Miss Alabama in the 1994 Miss USA contest .
on Thu Jul 07, 2016 7:53 am
on Sat Apr 29, 2017 7:17 pm
on Tue Jun 27, 2017 2:06 pm
A conserved NAD+ binding pocket that regulates protein-protein interactions during aging.
NAD+ binding modulates protein interactions
An unexpected function of the oxidized form of nicotinamide adenine dinucleotide (NAD+) could underlie some effects of aging and propensity to age-related diseases. Li et al. found that the protein DBC1 (deleted in breast cancer 1) contains a domain that specifically binds NAD+. Binding of NAD+ inhibited the interaction of DBC1 with PARP1 [poly(adenosine diphosphate–ribose) polymerase 1], an enzyme important in DNA repair. Activity of PARP1 is inhibited by interaction with DBC1. Thus, the reduced abundance of NAD+ associated with aging may decrease PARP1 activity by promoting the interaction of PARP1 with DBC1. This mechanism could help explain the reported rejuvenating actions of NAD+ supplementation in older animals.
Science Friday (March 24) p. 1312
A
bstract
DNA repair is essential for life, yet its efficiency declines with age for reasons that are unclear. Numerous proteins possess Nudix homology domains (NHDs) that have no known function. We show that NHDs are NAD+ (oxidized form of nicotinamide adenine dinucleotide) binding domains that regulate protein-protein interactions. The binding of NAD+ to the NHD domain of DBC1 (deleted in breast cancer 1) prevents it from inhibiting PARP1 [poly(adenosine diphosphate–ribose) polymerase], a critical DNA repair protein. As mice age and NAD+ concentrations decline, DBC1 is increasingly bound to PARP1, causing DNA damage to accumulate, a process rapidly reversed by restoring the abundance of NAD+. Thus, NAD+ directly regulates protein-protein interactions, the modulation of which may protect against cancer, radiation, and aging.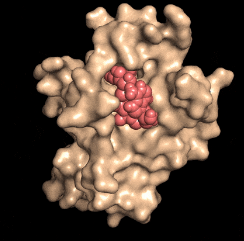 Disarming a rogue agent: When the NAD molecule (red) 
binds 
to 
the DBC1 protein (beige), it prevents DBC1 from attaching to
and 
incapacitating a protein (PARP1) that is critical for DNA repair. 
(credit: David Sinclair)
http://science.sciencemag.org/content/355/6331/1312
https://www.youtube.com/watch?v=AIX_EhnE3gQ
on Sat Jul 01, 2017 8:00 am


Once printed, an inlet and outlet own opposite ends are perfused with fluids, nutrients, and cell 
growth factors, which control stem cell differentiation and sustain cell functions. By flowing growth
factors through the vasculature, stem cells can be differentiated into a variety of tissue cell types.
on Wed Aug 23, 2017 7:47 am
High-Resolution Patterned Cellular Constructs by Droplet-Based 3D Printing
https://www.nature.com/articles/s41598-017-06358-x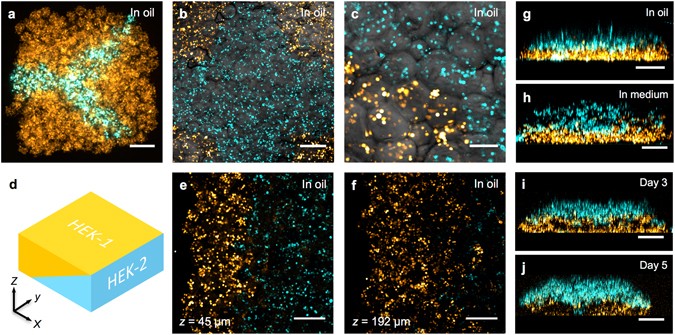 confocal micrograph of an artificial tissue containing two populations of embryonic kidney cells
(HEK-293T) printed in the form of an arborized structure within a cube
on Tue Nov 07, 2017 4:30 pm
Multigenerational silencing dynamics control cell aging
ΑΜΠΣΤΡΑΚΤ
Cellular aging plays an important role in many diseases, such as cancers, metabolic syndromes, and neurodegenerative disorders. There has been steady progress in identifying aging-related factors such as reactive oxygen species and genomic instability, yet an emerging challenge is to reconcile the contributions of these factors with the fact that genetically identical cells can age at significantly different rates. Such complexity requires single-cell analyses designed to unravel the interplay of aging dynamics and cell-to-cell variability. Here we use microfluidic technologies to track the replicative aging of single yeast cells and reveal that the temporal patterns of heterochromatin silencing loss regulate cellular life span. We found that cells show sporadic waves of silencing loss in the heterochromatic ribosomal DNA during the early phases of aging, followed by sustained loss of silencing preceding cell death. Isogenic cells have different lengths of the early intermittent silencing phase that largely determine their final life spans. Combining computational modeling and experimental approaches, we found that the intermittent silencing dynamics is important for longevity and is dependent on the conserved Sir2 deacetylase, whereas either sustained silencing or sustained loss of silencing shortens life span. These findings reveal that the temporal patterns of a key molecular process can directly influence cellular aging, and thus could provide guidance for the design of temporally controlled strategies to extend life span.
Multigenerational silencing dynamics control cell aging
periodic switching during aging
on Sun Mar 18, 2018 11:01 pm

Permissions in this forum:
You
can
reply to topics in this forum